Jason Terry Awarded Our First "Win Stat Rally" Award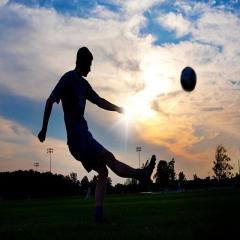 Photo Credit: gspn.net
NBA Finals – Game 1
Jason Terry earned the distinction of the first player to receive the "Win Stat Rally" Award. Terry came into the game with 5:30 left in the first quarter with the Mavs trailing by 6 creating enough action to help open up Jason Kidd for a couple three's while playing aggressive defense to help bring the Mavericks within 1 in his first two minutes on the court.
A more dubious notation goes to Haslem, Anthony, Chalmers, James, and Wade.  The lineup has played together for only 8 minutes in this post season, without success, and went from leading the Mavs by 4 to trailing them by 3 all within two minutes at the end if the first half.
The final award, "Win Stat Coach for Game 1," goes to Erik Spoelstra for halting this 'experiment' and not giving that lineup the opportunity for a repeat the rest of the game.
Win Stat Sidelines:
* Terry was +1 when Wade was on the court and -1 with Wade on the bench countering the pre-game hype of Terry's low plus/minus during the regular season when Wade was on the court.
* Miller, the Win Stat Standout of the clinching game vs. the Chicago Bulls, had a more challenging night injuring his shoulder mid-way through the fourth period and did not return.
* Miami Heat's Chris Bosh and Dallas Mavericks' Jason Terry lead their teams in the Win Stat column.
———–
Winimation's Basketball Awards
"Win Stat Ace" Award: Player or players (with significant minutes) that had the best Win Stat on their team.
"Win Stat Rally" Award: Player or players that came on the court with their team trailing, and left the court with their team ahead or with momentum on their team's side.
———–
Statistics for Dallas Mavericks During 2011 Finals Game 1
Top Players
---
Ian Mahinmi


Offense: 0   Defense: 0

0.00


0:00
---
Dominique Jones


Offense: 0   Defense: 0

0.00


0:00
---
.


Offense: 0   Defense: 0

0.00


0:00
---
Caron Butler


Offense: 0   Defense: 0

0.00


0:00
---
Corey Brewer


Offense: 0   Defense: 0

0.00


0:00
---
Rodrique Beaubois


Offense: 0   Defense: 0

0.00


0:00
---
Brian Cardinal


Offense: 0   Defense: 0

0.00


0:00
---
Jason Terry


Offense: 63   Defense: -63

0.00


32:30
---
Dirk Nowitzki


Offense: 76   Defense: -78

-0.05


40:27
---
Tyson Chandler


Offense: 65   Defense: -67

-0.06


33:47
---
Jason Kidd


Offense: 65   Defense: -72

-0.19


36:25
---
Peja Stojakovic


Offense: 22   Defense: -25

-0.20


14:43
---
Shawn Marion


Offense: 62   Defense: -71

-0.25


35:20
---
Jose Barea


Offense: 28   Defense: -34

-0.33


18:09
---
DeShawn Stevenson


Offense: 20   Defense: -25

-0.35


14:26
---
Brendan Hayward


Offense: 19   Defense: -25

-0.42


14:13
---
Top Sets of Five
---
| | |
| --- | --- |
| 6 | Tyson Chandler |
| 11 | Jose Barea |
| 41 | Dirk Nowitzki |
| 16 | Peja Stojakovic |
| 31 | Jason Terry |

1.94


1:02

Offense: 2   Defense: 0
---
| | |
| --- | --- |
| 6 | Tyson Chandler |
| 2 | Jason Kidd |
| 41 | Dirk Nowitzki |
| 16 | Peja Stojakovic |
| 31 | Jason Terry |

1.76


1:08

Offense: 5   Defense: -3
---
| | |
| --- | --- |
| 6 | Tyson Chandler |
| 2 | Jason Kidd |
| 11 | Jose Barea |
| 41 | Dirk Nowitzki |
| 0 | Shawn Marion |

0.64


1:34

Offense: 2   Defense: -1
---
| | |
| --- | --- |
| 6 | Tyson Chandler |
| 2 | Jason Kidd |
| 41 | Dirk Nowitzki |
| 31 | Jason Terry |
| 0 | Shawn Marion |

0.39


12:44

Offense: 34   Defense: -29
---
| | |
| --- | --- |
| 33 | Brendan Hayward |
| 11 | Jose Barea |
| 41 | Dirk Nowitzki |
| 31 | Jason Terry |
| 92 | DeShawn Stevenson |

0.23


4:18

Offense: 8   Defense: -7
---
| | |
| --- | --- |
| 6 | Tyson Chandler |
| 11 | Jose Barea |
| 41 | Dirk Nowitzki |
| 31 | Jason Terry |
| 0 | Shawn Marion |

0.00


0:52

Offense: 2   Defense: -2
---
| | |
| --- | --- |
| 2 | Jason Kidd |
| 33 | Brendan Hayward |
| 16 | Peja Stojakovic |
| 31 | Jason Terry |
| 0 | Shawn Marion |

0.00


1:02

Offense: 0   Defense: 0
---
| | |
| --- | --- |
| 2 | Jason Kidd |
| 33 | Brendan Hayward |
| 31 | Jason Terry |
| 0 | Shawn Marion |
| 92 | DeShawn Stevenson |

0.00


0:06

Offense: 0   Defense: 0
---
| | |
| --- | --- |
| 33 | Brendan Hayward |
| 11 | Jose Barea |
| 41 | Dirk Nowitzki |
| 16 | Peja Stojakovic |
| 31 | Jason Terry |

-0.20


5:06

Offense: 7   Defense: -8
---
| | |
| --- | --- |
| 6 | Tyson Chandler |
| 2 | Jason Kidd |
| 41 | Dirk Nowitzki |
| 0 | Shawn Marion |
| 92 | DeShawn Stevenson |

-0.34


8:56

Offense: 12   Defense: -15
---
| | |
| --- | --- |
| 6 | Tyson Chandler |
| 2 | Jason Kidd |
| 16 | Peja Stojakovic |
| 31 | Jason Terry |
| 0 | Shawn Marion |

-0.62


4:49

Offense: 5   Defense: -8
---
| | |
| --- | --- |
| 2 | Jason Kidd |
| 33 | Brendan Hayward |
| 11 | Jose Barea |
| 41 | Dirk Nowitzki |
| 0 | Shawn Marion |

-0.88


3:24

Offense: 4   Defense: -7
---
| | |
| --- | --- |
| 6 | Tyson Chandler |
| 2 | Jason Kidd |
| 11 | Jose Barea |
| 16 | Peja Stojakovic |
| 0 | Shawn Marion |

-1.88


1:36

Offense: 3   Defense: -6
---
| | |
| --- | --- |
| 6 | Tyson Chandler |
| 2 | Jason Kidd |
| 41 | Dirk Nowitzki |
| 31 | Jason Terry |
| 92 | DeShawn Stevenson |

-2.73


1:06

Offense: 0   Defense: -3
---
| | |
| --- | --- |
| 33 | Brendan Hayward |
| 11 | Jose Barea |
| 41 | Dirk Nowitzki |
| 31 | Jason Terry |
| 0 | Shawn Marion |

-10.59


0:17

Offense: 0   Defense: -3
Statistics for Miami Heat During 2011 Finals Game 1
Top Players
---
Chris Bosh


Offense: 76   Defense: -65

0.28


38:55
---
Mario Chalmers


Offense: 62   Defense: -54

0.28


28:24
---
Udonis Haslem


Offense: 58   Defense: -50

0.27


29:34
---
Juwan Howard


Offense: 15   Defense: -13

0.26


7:37
---
LeBron James


Offense: 89   Defense: -80

0.20


45:15
---
Dwyane Wade


Offense: 74   Defense: -67

0.18


38:05
---
Mike Miller


Offense: 35   Defense: -33

0.10


20:12
---
Erick Dampier


Offense: 0   Defense: 0

0.00


0:00
---
Eddie House


Offense: 0   Defense: 0

0.00


0:00
---
James Jones


Offense: 0   Defense: 0

0.00


0:00
---
.


Offense: 0   Defense: 0

0.00


0:00
---
Zydunas lgauskas


Offense: 0   Defense: 0

0.00


0:00
---
Mike Bibby


Offense: 21   Defense: -23

-0.14


14:06
---
Joel Anthony


Offense: 30   Defense: -35

-0.28


17:52
---
Top Sets of Five
---
| | |
| --- | --- |
| 6 | LeBron James |
| 3 | Dwyane Wade |
| 15 | Mario Chalmers |
| 1 | Chris Bosh |
| 50 | Joel Anthony |

2.38


1:41

Offense: 6   Defense: -2
---
| | |
| --- | --- |
| 6 | LeBron James |
| 3 | Dwyane Wade |
| 15 | Mario Chalmers |
| 5 | Juwan Howard |
| 40 | Udonis Haslem |

1.53


1:58

Offense: 3   Defense: 0
---
| | |
| --- | --- |
| 6 | LeBron James |
| 3 | Dwyane Wade |
| 15 | Mario Chalmers |
| 1 | Chris Bosh |
| 40 | Udonis Haslem |

1.00


7:58

Offense: 24   Defense: -16
---
| | |
| --- | --- |
| 13 | Mike Miller |
| 6 | LeBron James |
| 3 | Dwyane Wade |
| 1 | Chris Bosh |
| 40 | Udonis Haslem |

0.82


4:53

Offense: 7   Defense: -3
---
| | |
| --- | --- |
| 13 | Mike Miller |
| 6 | LeBron James |
| 15 | Mario Chalmers |
| 5 | Juwan Howard |
| 40 | Udonis Haslem |

0.20


5:02

Offense: 10   Defense: -9
---
| | |
| --- | --- |
| 13 | Mike Miller |
| 6 | LeBron James |
| 3 | Dwyane Wade |
| 15 | Mario Chalmers |
| 1 | Chris Bosh |

0.00


2:02

Offense: 5   Defense: -5
---
| | |
| --- | --- |
| 13 | Mike Miller |
| 6 | LeBron James |
| 15 | Mario Chalmers |
| 1 | Chris Bosh |
| 40 | Udonis Haslem |

0.00


4:53

Offense: 8   Defense: -8
---
| | |
| --- | --- |
| 0 | Mike Bibby |
| 6 | LeBron James |
| 3 | Dwyane Wade |
| 1 | Chris Bosh |
| 50 | Joel Anthony |

-0.14


14:06

Offense: 21   Defense: -23
---
| | |
| --- | --- |
| 13 | Mike Miller |
| 3 | Dwyane Wade |
| 15 | Mario Chalmers |
| 1 | Chris Bosh |
| 40 | Udonis Haslem |

-0.36


2:45

Offense: 3   Defense: -4
---
| | |
| --- | --- |
| 13 | Mike Miller |
| 6 | LeBron James |
| 3 | Dwyane Wade |
| 5 | Juwan Howard |
| 1 | Chris Bosh |

-3.24


0:37

Offense: 2   Defense: -4
---
| | |
| --- | --- |
| 6 | LeBron James |
| 3 | Dwyane Wade |
| 15 | Mario Chalmers |
| 40 | Udonis Haslem |
| 50 | Joel Anthony |

-3.36


2:05

Offense: 3   Defense: -10
---
Substitutions for 2011 Finals Game 1
---
---
---
---
---
---
---
---
---
---
---
---
---
---
---
---
---
---
---
---
---
---
---
---
---
---
---
---
---
---
---
---
---
---
---
---